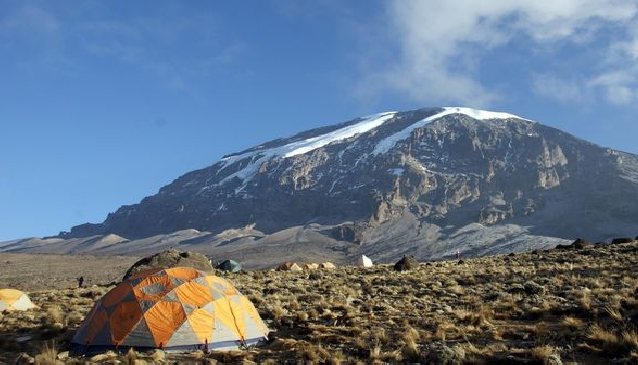 From the Shores of Zanzibar to the Top of Africa
Tanzania
I dug deep for some positive mental energy, knowing that turning back wasn't an option
A year ago I'd run the half-marathon across the Sydney Harbour Bridge, played hockey every weekend and attended a gruelling gym routine on a daily basis. But living on the island of Zanzibar for three months with the irresistible samosa, chapatti and sun-downer lifestyle, it had clearly made its impact. Even a simple climb to the top of the House of Wonders - Stone Town's highest building - brought on a hefty bout of breathlessness. So if six flights of stairs were a challenge, how was I ever going to drag my unforgiving legs to the top of the highest freestanding mountain in Africa?
Our expedition focuses on the Lemosho route, a quieter and more remote trail up Kilimanjaro. Situated west of the other popular routes, Lemosho allows a more moderate process of acclimatization, taking five days to reach the summit and two days to descend.
I stood at the beginning of the trail with my heart pounding rapidly. Before me lay the thick Afromontane forest, densely populated with some of Kilimanjaro's most exquisite and diverse flora. Animals and bird life also match the flora's diversity with White Colobus monkeys, elephants, giraffes and buffalos also known to make the odd appearance along the route.
My guide, Yusto, gave me the go-ahead and I quickly started to scramble up the steep, muddy slope. Instantly the adrenaline kicked in and it wasn't long before Yusto pulled my enthusiastic body to a slower pace. "Pole pole" ("slowly slowly" in Kiswahili) was yelled from all directions by guides and porters. It was an expression I had heard and used too often in Zanzibar- usually from a taxi or 'dala-dala'.
From the magical and calming forested slopes of the Lemosho, we quickly ascended through Podocarpus and Juniper forest, making our way across the grassy moor and volcanic rock formations, where we finally broke out to reach the heath zone and the Shira Plateau. In the distance the Shira cone rises 200 metres above the plateau. West of the cone is Shira Ridge, a steep rough rise of almost the Arrow glacier is melting at a rapid rate. Recent scientific reports state that Kilimanjaro's glaciers will diminish from the mountain by approximately the year 2020.
Days trickle on and my daypack mysteriously gains a few extra kilos in weight, just enough to bring a constant burning sensation to my shoulders. I remind myself not to complain as the porters- the true climbers of this mountain- scramble up the steep path ahead. Even with our head start each day, these porters of various shapes and sizes manage to make their way up the mountain at an unbelievable speed carrying everything from our food, tents and climbing equipment. Despite how much the average climber comes into trouble on the mountain, it's the porters who frequently suffer from altitude sickness, lack of adequate gear and clothing, all while succumbing to poor wages and conditions.
Like my fellow climbers on this expedition they are among the growing number of travellers considering fair trade tourism, seeking a hand full of tour operators who have ethical guidelines in place for their porters (and stand by them), such as Summits Africa. They provide a fair wage (often three times the industry average), but also further opportunities such as ongoing education, training and simple advice.
Departing the earthly wonder of the Shira Plateau, the air becomes thicker and the temperature dramatically drops as we continue our climb. "Pole Pole" walking quickly comes back in fashion as we edge our way closer to the Lava Tower camp at 4600m. Standing tall and dominant, this volcanic formation has glacial valleys and out washed, lava flows and a dramatic volcanic plug, next to which our camp is set.
Along with the melting glaciers, Kilimanjaro is also subject to greater changes in temperatures and precipitation patterns. These have significant impacts on the mountain's diverse flora and fauna, plus the critical ecosystem that sustains over a million local (human) inhabitants who depend on it for their livelihoods, as well as the broader region depending on water resources that originate at the Kilimanjaro peak.
The following day, we set off for a long haul to the Karanga Camp. Moving to a lower altitude is a strategic yet significant for safe acclimatization with Karanga camp sitting at 3963m. The clouds are particularly thick and visibility varies from five to twenty metres. Kilimanjaro's famous Giant Groundsels- adapted to the equatorial high altitude- stand out from the mist like monsters ruling over their land. They vary in shape and sizes mostly forming together; I feel I've come across an intimidating army ready to defend their land.
Next we descend into the great Barranco gorge where we reach the ridge appropriately called the 'Breakfast climb'. Instantly I'm glad for the first time on this expedition that I stuffed myself full of millet porridge, eggs, bacon and fruit for breakfast. We started to climb the steep ridge; many junctions formed mild rock climbing challenges. Less than an hour passed and I still couldn't make out the top through the looming cloud. My energy levels start- ed to crumble, my legs turned to jelly as I tried to manoeuvre and balance my way around particularly steep and tricky rocks faces. With persistence and encouragement from Yusto we finally made it to the top – just in time for breakfast number two.
The next morning the trail turned steadily uphill into sparse landscape as we near Barafu Camp. The camp is set on an exposed ridge and is the staging point from where we will make our way to the summit the following morning. Unlike other routes, most tour operators use this acclimatization to alter the summit day plan by climbing to Uhuru Peak in daylight, then descending to the spectacular Crater Camp just below the summit. At 5am, warmly tucked into my sleeping bag, I forgot I was on the edge of Kilimanjaro and that within the hour, I'd be tackling the hardest day of climbing thus far.
I dug deep for some positive mental energy, knowing that turning back wasn't an option. After a quick pep talk from Yusto and the crew we set off at a snail's pace, weaving our way through a dusty and rocky path. The sun greeted us and Mawenzi peak appeared through a drastic and vibrant light. The agonizingly slow pace seem to be taking us nowhere, but after a mentally and physically draining six hours, we reached Stella Point at the lower lip of Kibo's summit crater. Yusto quickly pointed out the post to the left, set upon a steep ridge, there it was – Uhuru peak, the 'Roof of Africa'.I felt relief and pain.
Reaching the summit is a different experience for all. I wished I could admire the view for a couple of hours, sipping on a hot chocolate and taking in the serenity; but naturally my body gave into the depleted oxygen levels. The moment I had waited for and envisaged over the last three months was snatched out my hands within minutes. I could feel my heart- beat through fours layers of clothing and I was losing strength. It was clearly time to depart to the Crater camp and head in my favourite direction – down!