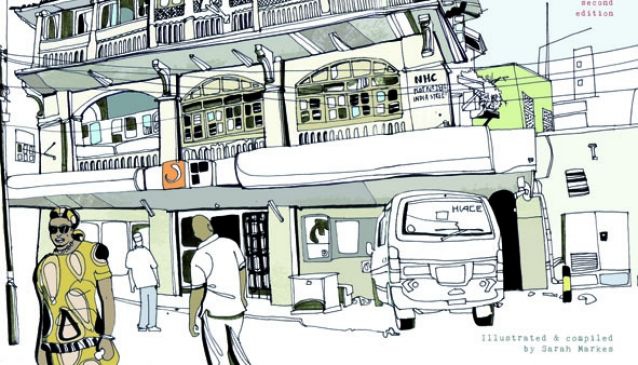 Tanzania's Heritage Illustrated
Arts & Culture
Illustrations by Sarah Markes capture the essence of Tanzania.
Many a traveller searches for keepsakes on their travels, something tangible to remind them of their experience, perhaps something small to fit in their luggage for the return flight home. Tanzania offers a variety of 'made in Tanzania' treasures that fit this profile. One in particular documents Tanzania's rich heritage by means of artistic illustration.
With a gifted ability showcasing the diverse facets of Tanzania's heritage, the increasingly popular and well known illustrations by Sarah Markes capture the essence of this East African country, skilfully drawing attention to its heritage at risk and in the process invoking key issues surrounding its conservation.
Wandering the streets of Tanzania's commercial capital, Sarah found inspiration from the cultural and architectural heritage of Dar es Salaam, her numerous illustrations culminating in the publication of her first book. Street Level, first published in June 2011, celebrates Dar's architecture by documenting buildings of aesthetic beauty both standing and those already demolished for the sake of urban development. Herein too is an adept portrayal of the Tanzanian people, their street trade, transport, cuisine and illustrations of Dar's distinctive natural environment. Illustrations are complemented by a series of writings by various invited contributors, arguably some of the best contemporary creative writers, key architectural heritage and conservation experts that live within the city. Street Level is a treasured keepsake for its portrayal of Dar es Salaam, appealing to those both familiar with the city or not.
'Between the Lines' is Sarah's most recent exhibition, hosted by Alliance Francaise Dar es Salaam, and shifts focus to the increasingly threatened natural heritage of the Southern Highlands in Tanzania. The exhibition is inspired by the flora and fauna of Kitulo Plateau, and emerges as an artistic and scientific probe into this area with a specific emphasis on the afromontane grassland ecology. Hailed as a botanical paradise, Kitulo encompasses some of the more important flora species in Tanzania and is particularly renowned for its terrestrial orchids. Partnering with the Wildlife Conservation Society (WCS), awareness is raised to the grassland ecosystem and its conservation challenges.
There are many aspects to Sarah's work that include an active involvement with various initiatives within the Tanzanian community. Her illustrative footprint can be seen through
branding (the Green Room , an eco-shop in Dar es Salaam)
promotional materials (Pole Pole, an eco-lodge on Mafia Island)
awareness materials (Sea Sense, a marine conservation NGO dedicated to the protection of endangered marine species and habitat in Tanzania)
illustrative portraits (of Neema Crafts, an organisation providing livelihoods for disabled people through craft, training and employment)
collaborations (Kidogo Kidogo, which sell cell phone cases creating funds that puts life changing mobile technology into the hands of Tanzanian women who could not otherwise afford it)
Bajaji tote bags and scatter cushions printed by the Mabinti project, a training centre for young Tanzanian women recovering from fistula surgery
Where to find a Sarah Markes keepsake
When in Dar, you will not need to search far for this authentically Tanzanian keepsake. The Green Room at Slipway maintain the most comprehensive stock featuring the full Sarah Markes art range (on occasion an original), and a variety of crafts and products from Sarah's collaborations. They too stock the widest selection of A3 prints and A6 cards depicting Sarah's Dar Sketches and nature work. While visiting the Green Room, ask about their signature line of bespoke furniture featuring their collaboration with Sarah, these are true collectors' items.
Some prints are also available online at africanlookbook.com. The Street Level book is sold at the Green Room, A Novel Idea and TPH Bookshop as well as amazon.com. Be on the lookout for exhibitions at Alliance Francaise, Nafasi Art Space and the Goethe Institute in Dar es Salaam, where you will have the opportunity to meet Sarah and purchase an original artwork.
Those further afield than Dar, can email Sarah (sarahindar@gmail.com) for updated stockist locations, a full gallery of designs and to place international orders. Follow Sarah's blog at www.darsketches.wordpress.com for the latest news regarding her work and travel adventures, and read more about this artist at www.sarahmarkes.com