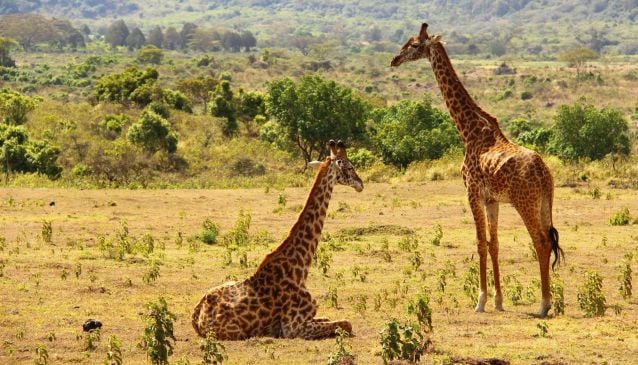 Safari, Shanga and Sundowners in the Serengeti
Tanzania
Within fifteen minutes we chanced upon a pride of lions just as they were waking up...
Visiting the Serengeti has been a dream since childhood. Watching the Discovery Channel while growing up in suburban America, it was almost impossible to conceive of a land free of highways where animals as large as elephants, giraffe, zebra and lions roamed freely.
Experiencing the real thing was surreal. It began with a flight into Kilimanjaro Airport, Tanzania, where we were greeted by Nathan from Nomad Tanzania, our local guide who'd be showing us around the provincial capital of Arusha before sending us off into the Serengeti later in the week.
Arrival in Arusha
We piled into Nathan's Land Cruiser and rolled to the Rivertress Country Inn, a former coffee plantation that now functions as a luxury lodge. We checked into a quiet room alongside the river and woke up the following morning for a press conference at Shanga, a handicrafts store that works with disabled people to help them earn an income.
The following day Nathan took us to the foothills of Mt. Meru in Arusha National Park, a nature preserve just outside of the city. It was stunning to see the amount of wildlife thriving just twenty minutes from the city center – so much that we needed an armed escort to accompany us during our visit!
Into the Serengeti
However, the true nature experience awaited us further north, in the Serengeti. We transferred across town to the Arusha Coffee Lodge for a night before taking a Bush Flight with Tanganyika Flying Company to Serengeti National Park, where we were met Chedi, our second guide from Nomad Tanzania. Our camp was a three hour drive from the runway, so we took advantage of the drive to get some of our first sightings of the big African game: elephants, hippos, giraffe, and crocodiles.
The landscape alone was a sight: lone acacia trees and desert date palms, and then kilometers of flat plains dotted with wild animals and no humans. And in the middle of these plains was the Nomad camp, the perfect complement to this natural beauty: luxury tents complete with warm showers, fine dining, and cold drinks for sunset (called "sundowners" here). We spent each afternoon here, resting between morning safaris and sunset drives and enjoying the peaceful solitude of the Serengeti.
Spotting the Rare Game: Lions and Rhinos
On our final day of safari we rose at dawn, jumped in the Land Cruiser and set off to find some rarer game. Within fifteen minutes we chanced upon a pride of lions just as they were waking up and parked our truck no more than three meters from the lioness and her cubs. Our proximity was astounding; you feel so intimate with the animals it makes you want to climb out of the truck and cuddle up with the lioness. But that, of course, would be the last thing you'd ever do.
That afternoon we found a rhino, unfortunately one of the most endangered species in Africa. Poaching has decimated the rhino population across Africa as demand for rhino horns in China and Yemen have been met by ruthless poachers keen to cash in on the $150,000 price tag for a horn. The worst part is that much of the demand comes from misguided Chinese who think that the horn can improve male virility (read: they think rhino horns will give them boners). It's wrong, it's sick and it's sad that people have been unable, or unwilling, to prevent this animal from slipping into extinction.
Meeting the Maasai
We didn't want to end on such a somber note so the next day we drove out of the park to Nomad's camp near Loliondo, a village of the mighty Maasai tribe, one of the most colorful and vibrant tribes in Africa and famous for maintaining a very traditional way of life.
The village was an hour's walk through the bush. We left at dusk, accompanied by a rifle-wielding guard and a local Maasai armed with a spear. We heard the village before we saw it: it began a kilometer out where thousands of cattle were grazing freely, then formed up into collections of mud houses where local girls carried goods off to market and young boys wrapped in hand-woven shawls stared at us in awe.
Then we heard some chanting from behind and turned around to see a string of Maasai singing, dancing in a line and coming towards us. They were singing an old song about hunting lions, and their dance involved a sort of jumping competition where the men would take turns jumping to show their eligibility to the females. Too tempted to resist, Alex and I jumped in and vied for a wife, but only ended up awkwardly demonstrating our utter foreignness.
The following morning we returned to Arusha and checked into the Onsea Guesthouse and Machweo Wellness Retreat, where we spent the afternoon editing videos and writing these articles before indulging in a massage and some fine dining, the perfect end to a week that will be truly hard to beat.
Would you like to keep up with Alex and Marko's travelling tales? Keep an eye on the blog and tune into BBBtv…