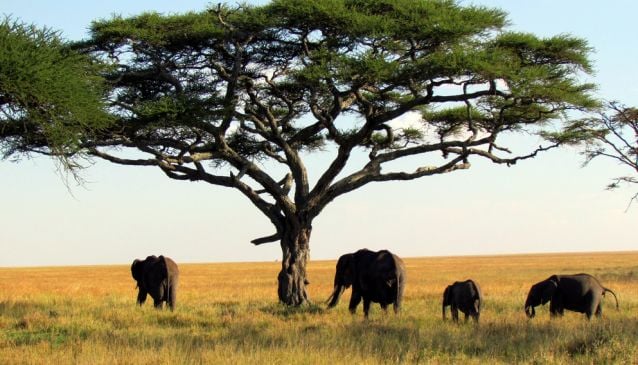 How to Pack for Tanzania National Parks
Tanzania
If you wouldn't feel comfortable wearing a clothing item on an overnight flight, don't wear it h
A holiday in Africa is one of the most memorable experiences for any traveler. Tanzania in itself has an abundance of national parks and attractions for a single holiday.
To have the most enjoyable experience possible, it is recommended that you are prepared with adequate clothing and travel gear. While there are many specialty safari clothing options on the market, it is also possible to pack clothes that you already own. Follow these guidelines to choose the best possible clothing options for your national park adventure and safari in Tanzania.
Safari Essentials
A few items that you should bring to Tanzania for any adventure at a national park include: an adequate sleeping bag, head torch with extra batteries, strong bug repellent, lip balm, and a quick dry towel.
Make sure that you also have a sleeping bag made for three seasons, not just summer. During the colder months you may also want to bring a fleece travel blanket to use inside your sleeping bag liner for additional warmth.
Safari Clothing Items: jacket, fleece, long sleeve shirt for sun protection, long sleeve shirt for warmth, t-shirts, vest, shorts, trousers, swimwear.
Additional: hat, shoes, 3 pairs of socks, flip flops, sunglasses, and swimwear.
Fabric
While cotton is the best fabric for breathability and comfort, it is also one of the fabrics that take the longest to dry. Search for fabrics with a cotton blend to provide you a proper balance of function and comfort.
To simplify the planning process, look for clothing made for fitness and yoga. These types of clothes offer quality, breathable fabrics that provide comfort and moisture wicking qualities.
Colours
It is always recommended that you stick to neutral and light colours when going on safari. Wearing bright colours can deter animals and wearing darks can draw insects to you.
While you don't have to wear head to toe Khaki, choose subdued hues such as heather grey and pale colors in addition to your traditional safari shades. Avoid white as it gets extremely dirty with the dust.
Comfort
The large part of many safari experiences consists of being within the confines of a vehicle to allow for the undisturbed observation of the wildlife in a natural setting.
If you wouldn't feel comfortable wearing a clothing item on an overnight flight, don't wear it here. Clothing should be relaxed so you can enjoy the safari experience to the fullest.
Successfully packing for a trip to Tanzania means bringing layers. While temperatures during the day may reach scorching highs, night time temperatures, particularly in the winter, can get extremely low. It's important to pack a few warm layers that you can wear together at night time if you get cold.
Originally from Los Angeles, Alex has been traveling around the world since 2008. 36 countries and 6 continents later, she's travelled as a tourist, a backpacker, and a vagabond. She's currently working on establishing a location independent lifestyle with her new website: Travel Fashion Girl - a traveler's guide to practical and stylish travel gear. Follow her on Twitter: @TravlFashnGirl, Facebook , and Pinterest/TravlFashnGirl
Main Image by David Berkowitz