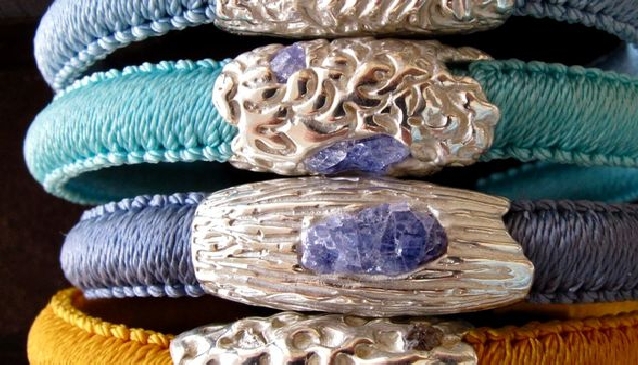 Made in Tanzania
Arts & Culture
...art created by local artisans whose crafts have been passed down from generation to generation
Visitors to Tanzania sometimes overlook the rich offering of local products that are available in the country. Lured by the safaris, the culture and exciting adventure travel, they seldom have time to explore the unique arts and crafts made in Tanzania.
This short article will guide you in your discovery of these hidden African treasures.
"Beads Amazing"
Shanga Shangaa (beads amazing in Swahili) is a model company with a sustainable production process and a profound social commitment. The beads used to create Shanga Shangaa's traditional necklaces are recycled from either glass bottles or coffee bush trimmings discarded by the coffee industry.
The company not only employs disabled workers, but also provides them with reading and writing lessons, among other benefits. Over the years, their necklaces, made from beads, silk, kanga and other fabrics, have become extremely popular, and the business has continued to grow. To get a feel for Shanga Shangaa's fabulous work, you can visit their workshop and have lunch in the beautiful garden.
Tanzania Interiors
One of the most culturally rich and sustainable endeavours in Zanzibar, The Green Room uses seashells and other products found in the local environment to create unique design objects that embody the spirit of sunshine, sea and nature.
Dedicated to unique art creations, gardening solutions, landscaping and interior design, the Green Room also showcases the work of local artists, notably in their print and postcard collections. Look out for their unique seaside mobiles, fashion accessories, stylish lamps, and their impressive collection of rare plants.
African bling
The Tanzanite Experience is a shop and museum that celebrates the beauty and history of Tanzanite, a locally mined violet-blue precious gemstone. TanzaniteOne Mining, the mining company associated with The Tanzanite Experience, uses ethical mining practices. Here you can learn about the history of Tanzanite mining while you get access to the best Tanzanite cuts, directly from the mines.
Diamonds with a true shine
URU Diamonds is a unique diamond company. It features designs inspired by African art created by local artisans whose crafts have been passed down from generation to generation for many centuries. The purity of the rough Tanzanian diamonds, combined with the exquisite art of the craftsmen, make up pieces that are unique and timeless.
The company prides itself on providing financial aid for the children of their miners so that they can go to school. In fact, 10% of the profits of each URU Diamonds sale is destined to this end, providing school uniforms, books, transportation and lunches for hundreds of children.
Dhow furniture
Nzito Furniture is home to a unique craft: the creation of furniture using the hardwoods of retired dhows - a traditional sailing vessel. The craftsmen who create these unique pieces are called Fundis, and the noble and long-lasting furniture they create is a testament to the history of the dhows that have sailed the Indian Ocean for many centuries. Yet another sustainable business, Nzito succeeds in turning discarded materials into objects of beauty and style.
Tanzanian leather & fashions
Asilia Leather prides itself on only using environmentally-friendly processes and locally sourced materials. From backpacks to lamp shades and shoes, all of their products feature a stylish design in high quality local leather. Doreen Mashika is a Zanzibar-based fashion accessories designer whose chic bangles, earrings and purses draw inspiration from the aboriginal cultures' traditions, while utilizing locally sourced natural materials.
One stop Tanzanian souvenirs
The Cultural Heritage Centre in Arusha offers a display of artefacts and crafts from hundreds of local tribes. Masks, wood carvings, traditional weapons and tanzanite are all available for purchase, among many other items.
Overall, it's easy to see how you can help save the planet while still taking home some objects of Tanzanian beauty.